I've been doing this job for over 10 years now, but it still amazes sometimes when I see how changing something as simple as the covering of a window can change the whole look and vibe of a room. The simple addition of a beautifully selected blind can transform a drab, tired and dour setting into a bright and vibrant environment full of life.
Here are 3 types of blinds that can totally alter the way your room feels and make you fall in love with your home again.
Vertical blinds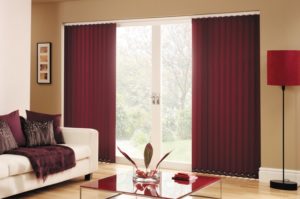 These blinds can totally transform the room that they're in. Vertical blinds are perfectly suitable all year round thanks to their simplistic design that works with any weather or setting.
They offer flexibility of light, meaning you can choose different shades of opacity depending on how much light you want to fill the room. The ability to adjust the angle of these blinds gives you extra control over how much light can seep in too. Vertical blinds also come in an abundance of fabrics to choose from to make sure you pick the perfect style. There's something for everyone with this option, whether it's for your bathroom, bedroom, living room or office.
Plantation shutters
Plantation shutters are a luxurious option when it comes to blinds. This prestige pick will add a touch of luxury to any room that they're placed in and will completely revitalise the interior of your home no matter the room.
Plantation shutters come in a huge range of colours and finishes so you can find the right one for your interior. Whether it's simple to keep with a theme, or something outlandish to really make a statement, you'll find it with plantation shutters. These blinds also come with multiple selections in terms of openings and styles for light control, all of which we offer at Expression Blinds.
Roman blinds
Roman blinds are a stunning style of blind that can totally remodel the way you and everyone else sees your home. Roman blinds are made from beautiful, soft fabrics that can look elegantly simplistic or just as easily be a striking design that really speaks to everyone who sees it.
Roman shades are known to be quite pricey, but the price you're paying for is down to the hand knitted quality that has every inch of concentration and detail put into it by its craftsman. They generally will last a long time due to their great quality.
Don't Limit Your Options
Whilst these blinds are incredible at transforming the living space you have, all blinds have the ability to make a claim in being just as good. You may find something stands out more for you than what has been mentioned on this list.
If you're not satisfied with just the three options we've given you here, view our full collection to see if there's something there that's more your style.