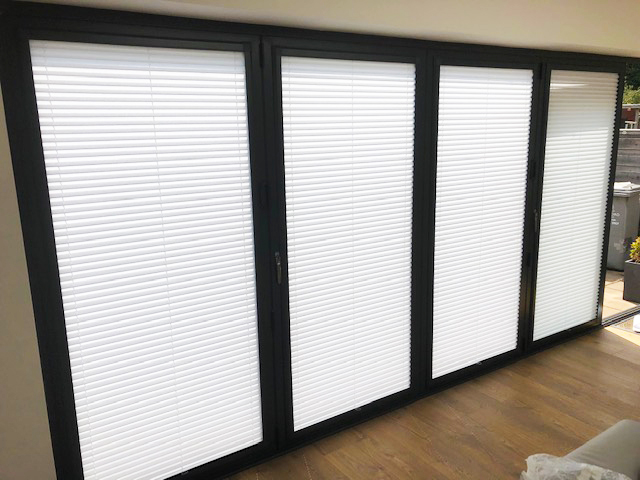 As open plan living starts to become the norm rather than the exception, interior design is adapting to match, and a huge element of this style is that of bifold doors. This is with good reason; they look stylish, allow lots of light into a room and give huge versatility in how the doors are used. You can quickly pop in and out through one of the doors, but on a lovely summers day you can easily open them up and create a connection between the inside and outside spaces. Bi fold doors come in many colours and finishes, but anthracite grey frames are fast becoming the colour of choice – modern, stylish and perfect for any colour scheme, anthracite grey bifold door frames are ideal for a range of bifold door blinds too. After all, there will be times where you will require privacy and light control for the doors, so let's now examine the best blind options for anthracite bifold doors.
Perfect Fit Blinds
Perfect fit blinds have been on the market for a few years now and are very popular. They have a frame that surrounds the main blind itself, and sits flush on the door frame making them ideal for doors. Since 2016, the anthracite frame colour has been available so this makes them a perfect fit (pun intended!) for anthracite bifold doors. They sit neatly on the door and do not affect the way they fold up together. The brackets sit behind the rubber seal so no drilling or damage is done to the door which is a huge benefit, as well as being extremely child safe. They're available as pleated, venetian or roller blinds in hundreds of colours and finishes, so are the ideal choice as blinds for anthracite bifold doors.
Electric Roller Blinds
If the preference is to fit blinds into the recess rather than onto the doors themselves, electric roller blinds are a great alternative. We can supply roller blinds in a huge range of fabrics, and can now offer the superb vision blinds which provide an added level of privacy and light control. The cassettes we supply are now available in anthracite, so they blend in seamlessly with the anthracite bifold doors. Plus using the remote control makes the blinds easy to operate and allow the user to control each blind individually or all together if desired.
Vertical Blinds
Vertical blinds have been the popular choice for many years, and with good reason; they are cost effective, allow versatility in light and privacy control, allow one blind to cover a large space, and very importantly, look great! We can now offer vertical blinds with anthracite tracks and fittings, making them a great choice for covering anthracite bifold doors. We now have some brand new fabrics available in a huge range of colours, textures and finishes, and can create a feature in your room, or subtly blend into the background depending on your preference.
For more information on all our blind ranges, please get in touch with us today. We pride ourselves on our honest, friendly advice. We look forward to hearing from you!