Expression Blinds are pleased to be at the forefront of window blind technology. As well as supplying the latest in Perfect Fit and INTU blind ranges, we can now supply electric vertical and roller blinds!
How do Motorised/Electric Blinds Work?
Our vertical and roller blinds come with a small & discreet motor which is fitted inside the track of the vertical blind, and inside the barrel unit of the roller blind.
The motor unit can be powered by a battery which can be recharged, or it can be plugged into the mains. They are then operated by remote control, allowing the user to select the desired position of the blind with ease.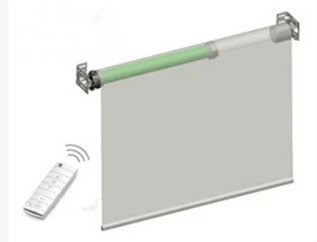 What are the Benefits of Motorised/Electric Blinds?
No wires – If you select the battery powered blinds, then there are no cables/wires to get tangled up! They simply need plugging in when required to recharge, in the same way you would plug a mobile charger phone in. The frequency of the charge does of course depend upon how often the blinds are used, but as a general rule, once every few weeks will suffice.
Ease of use – No more shuffling from blind to blind to open and close them! With one remote control you can operate multiple blinds, setting each one individually or operating them all at the same time. The choice is up to you! This is particularly great if you have several blinds together on a bay window, set of doors or conservatory.
Out of reach windows – In many modern day houses and conversions, windows can be placed in difficult to reach locations. If it is not practical to reach the windows to operate the blinds then electric blinds are the ideal solution.
Child safety – With this being at the forefront of blind manufacture and many customers minds, electric blinds are perfectly child safe as there are no loops or cords to get tangled up in. Also great if your pets get caught up in your current blinds cords!
Affordable – Whilst being more expensive than the standard vertical and roller blind ranges, they are still more affordable than many people think. Give us a call to arrange you FREE quotation today!
The following video shows the exciting vision roller blinds range fully motorised:

Please get in touch today for more information on these exciting blinds, we look forward to hearing from you!