When it comes to blinds for bifold doors, Expression Blinds are the leading experts for a reason: blinds for these doors are a technical challenge and can be difficult to install in a way that preserves the full functionality of the doors. The thin panes of glass and folding nature of bifold doors means that most conventional blinds won't fit, or will protrude too far and won't allow the doors to open all the way.
Luckily, we have the perfect solution for bifold door blinds: the INTU Micro blind.
INTU Blinds are always a great choice, and they provide excellent versatility, efficiency and aesthetic when properly fitted. The INTU Micro blind takes this to the next level by employing a much smaller, slimline casing that doesn't protrude past the window frame itself, resulting in a micro blinds assembly that's so inconspicuous, you may not even notice that it's there when it's open!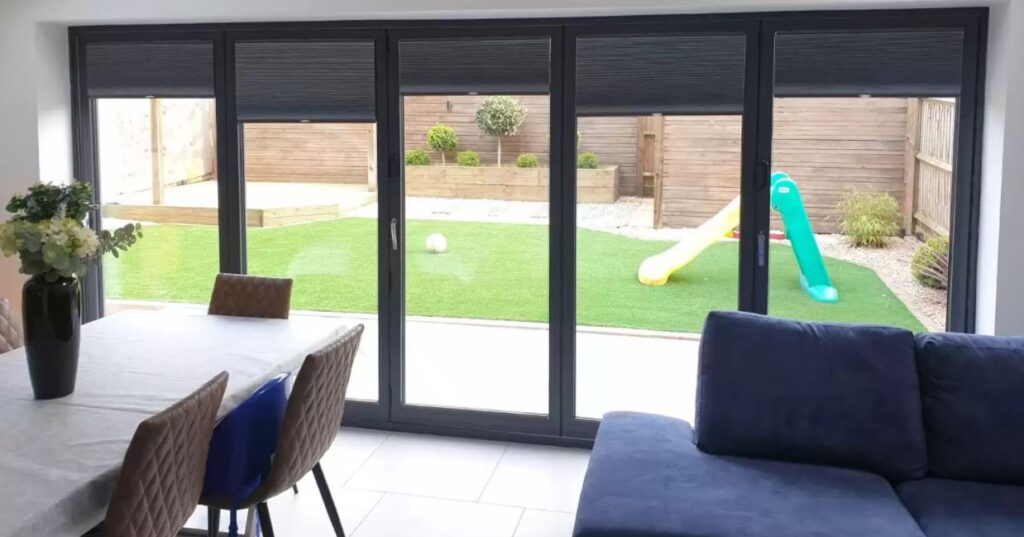 So Why Should You Choose INTU Micro Blinds For Bifold Doors?
They Don't Sacrifice Function Or Style
As we mentioned above, bifold doors open in such a way that blinds can be very difficult to fit – almost all blinds will protrude out further than the window frames on the doors, meaning that they clash or prevent proper opening.
This isn't the case with INTU micro blinds, which sit beneath the level of the window frame, so they can't bump into anything when the door is opening, allowing the doors to fold exactly as they were designed to and maximizing your open space.
While they might be small, they don't lose out on functionality – INTU Micro blinds are still available in blackout versions, and can insulate well due to their pleated design. They're extremely versatile and can be raised or lowered to the exact height that you need for light control – ideal for the unpredictable British sun!
There Are No Dangling Cables or Cords
INTU blinds simply pull open and closed – there are no hanging cords, cables or bars, so they're a great choice for homes with young children or inquisitive pets. They're also easy to clean and look after – simply wiping them down with a cloth will be enough to keep everything clean and tidy!
There's A Range Of Material and Style Options Available
While the slim profile of INTU Micro blinds restricts them to just a pleated blinds structure, the material, colour and style of that pleated blind can be changed to suit your needs. The blinds housing is also available in a range of colours including anthracite grey, so whatever the frame of your bifold doors, you new blinds will blind right in!
Our fitters will be happy to go through all of our available materials and patterns with you during your consultation, and can advise you on what might suit your needs best.
Installation Is Quick And Easy
Like the closely-related Perfect Fit blinds, INTU blinds and INTU micro blinds clip directly into the window frame, without the use of screws or nails, which means that they can be fitted quickly and efficiently by our expert fitters.
This does also mean that they need to fit perfectly in order to work properly and look good – but that's not a problem, as our fitters will take all the necessary measurements during your free fitting consultation.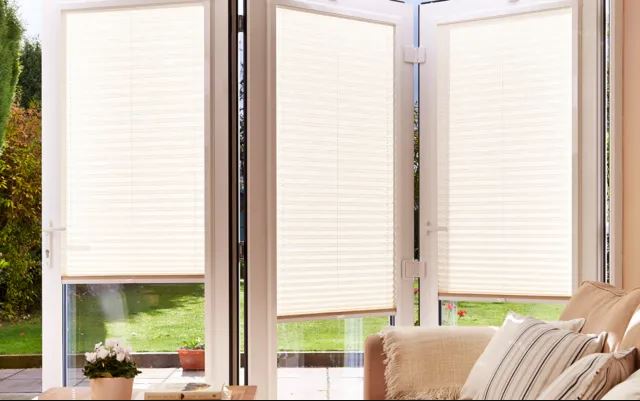 Can Expression Blinds Offer Blinds For Other Windows?
At Expression Blinds, we're able to provide blinds, shutters and other window dressings for all sorts of doors and windows – not just bifold doors!
Since all of our blinds and shutters are customised to your specifications, we can provide solutions for windows of all shapes and sizes – even irregular windows or custom-built ones that you can't find other blinds for.
Having blinds that fit well is vitally important to keeping out light, ensuring proper privacy and insulation, and adding to your décor scheme, so if you're having trouble finding blinds that fit your windows, give us a call!
What Other Blinds Are Available?
Expression Blinds don't just fit INTU Micro blinds on bifold doors – we also stock a range of other blinds, shutters and window films for our customers.
In addition to perfect fit blinds, Expression Blinds can offer:
Electric Blinds and Smart Blinds
And more!
The links above link to full pages packed with info about the different sorts of blinds, shutters and window films available from Expression Blinds (for doors or windows) or you can give us a call on 0161 241 9686 or click through to the Contact Us page on this site to send us a message!
What Can I Expect From My Free Consultation?
At Expression Blinds, we make it a point of pride that we will never employ commission-based sales staff. We always want you to get the best possible solution for your needs, not just the one that generates the biggest commission, so our fitters work exclusively to provide the best fit for your needs, providing impartial expert advice that you can rely on.
That means that your free consultation is just that – free – and you'll never face any pressure to choose a particular option.
Once you've gotten in touch, either by calling us or through our Contact Us page, we can arrange a time that will suit you, and schedule your consultation to cause minimum disruption to your day. Our expert blinds fitters can then take all the necessary measurements of your windows and doors, and ensure a perfect fit on your blinds!
While they're there, they can also talk you through all of the available options for your blinds – not just the different types of blinds themselves but also available materials, colours and styles, or even other window dressings like plantation shutters (although for bifold doors plantation shutters might not be a wise idea!).
They'll also provide you with a written quote on the day, so you'll know the full cost of any work before the work itself starts. Once that's all done, we're ready to get to work on your blinds!
Where Are Expression Blinds Based?
Expression Blinds have been operating in the North West for over a decade from our workshop in Lymm, Cheshire. From there, we fit blinds, shutters, window films or curtains as far as Liverpool, Warrington and Manchester, Chester, Blackburn, Stockport, Wigan & St Helens. No matter where you are, just get in touch with us – we'd love to help you get the blinds of your dreams!
Looking For More Information? Contact Expression Blinds Today!
Feel free to get in touch with us any time on our Contact Us page or give us a call on 0161 241 9686 between 9am and 5pm, Monday to Friday. One of our expert head office staff will be happy to help you!