Our 5 Best Blinds for Bay Windows Ideas
What is a Bay Window?
As this blog post is about our top 5 bay window ideas, we ought to let you know what a bay window is! A bay window is generally made up of a set of three windows, two of them angling out away from your property with a center window connecting the two angled windows. These beautiful windows are often the centerpiece of period homes in the UK and are an enviable centrepiece feature that adds plenty of light to your room.
Due to their (pardon the pun) stand out nature, changing the way you dress these windows can totally change the feel of the entire room. Such an important choice needs some consideration, so we've put together this list of our top 5 ideas for bay window blinds.
#1 Venetian Blinds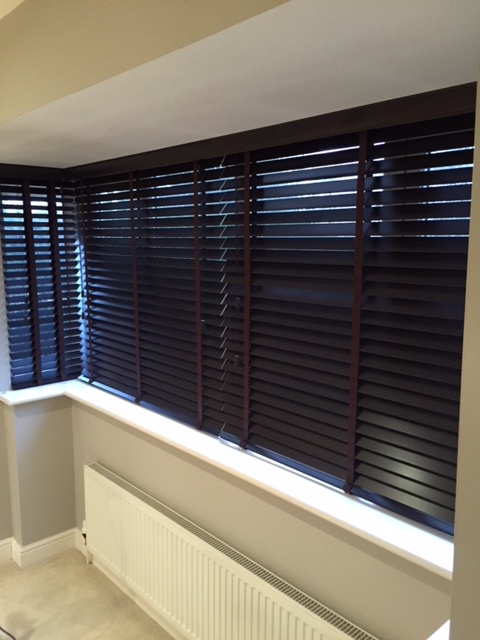 The most popular choice. Many people choose Venetian blinds for bay windows because they are the most commonly thought of blind. Venetian blinds utilise horizontal slots that can both be drawn up and down as well as adjusted up and down to precisely
control how much light is let into the room (and how much privacy you have).
The great points of venetian blinds for bay windows are:
They are highly adjustable – you can precisely control how much light you let into each room making them perfect for those brightly lit south facing bay windows.

They have a small footprint when drawn – when fully drawn most Venetian blinds will sit unobtrusively at the top of the window frame and be practically unnoticeable. This lets you enjoy your view unimpeded
Venetian blinds are also highly versatile, if you want them to blend in, choosing a simple synthetic material will give you a practical blind that doesn't take away attention from other features. However if you are like us and want your blinds to draw even more attention to your beautiful bay windows we highly recommend wooden venetian blinds for your bay windows. Wooden slats add even more character to period windows and make for a great centerpiece feature, whilst looking clean (and staying clean thanks to how easy to dust they are). Of course you don't need to shell out on actual wood, faux wood venetian blinds are a popular choice for style on a budget. You can check out our range of venetian blinds here.
#2 Roman Blinds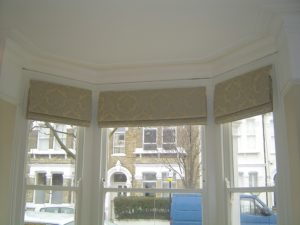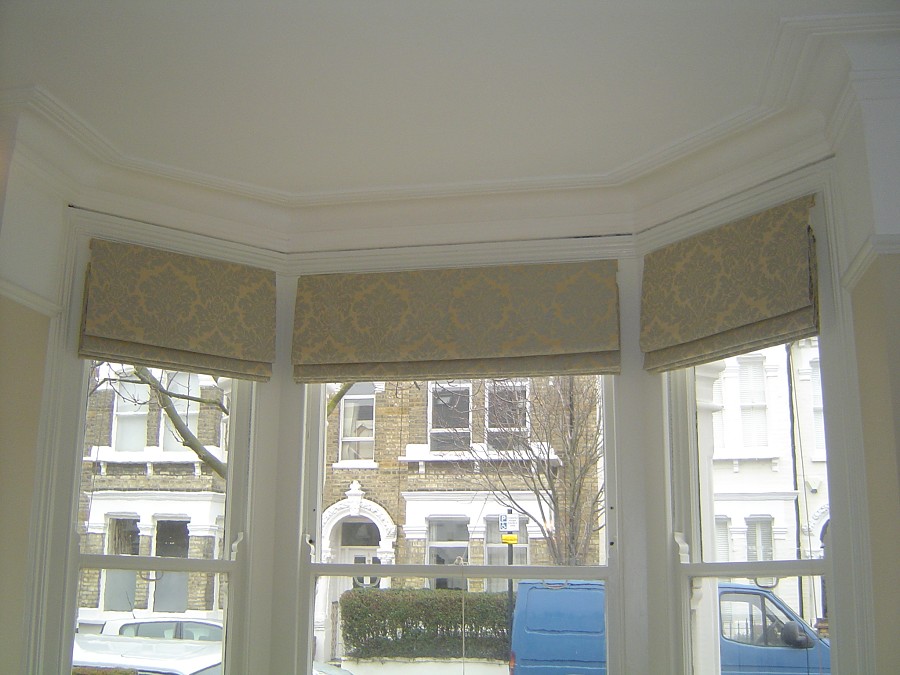 Roman blinds are a very traditional kind of fabric blind that dates back thousands of years. They are created from fabric which lays flat when the 
blind is fully deployed but folds into itself as the blind is drawn rather than rolling.They are available in a rich variety of fabrics to suit the decor and feel of your room.
Being fabric they "soften" the appearance of your window, reducing hard lines and making windows less stark, perfect for making rooms feel cosier.
Like all soft fabrics, while deployed the fabric helps to absorb noise coming from outside, perfect if your bay window points out onto a busy road
A lined roman blind can work very well as a total blackout blind, perfect for bay windows in bedrooms or home cinema conversions, a thermal lining can also make them excellent insulators for cold conservatories.
Great reasons to have roman blinds for your bay windows are:
It is worth noting that roman blinds take up a noticeable chunk of the window with their bulk when they are drawn. This does give a traditional feel to the window space but can restrict your view so it's important to balance the character feel roman blinds offer against how much you want your view to be unimpeded! Take a look at our range of roman blinds for bay windows here.
#3
Plantation Shutters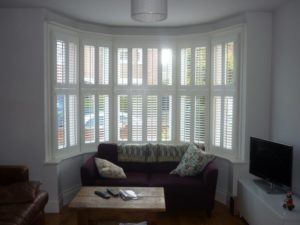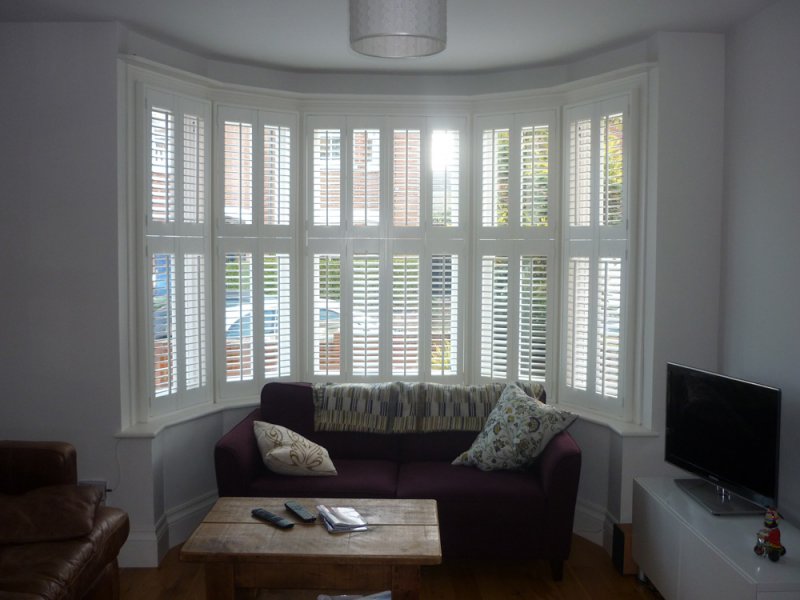 For a touch of old countryside charm consider shutter blinds for your bay windows. The blinds tend to be horizontally slatted blinds fixed into an internal shutter you can open away from your windows. Modern shutters often also allow you to control the angle of the slats for better light control. Plantation Shutters are a big statement piece, they are great for adding a rustic look to your bay windows and when open do not impede your view at all!
The reason we'd consider a shutters are:
Rustic character – If you are wanting a country home vibe look no further.

Durability – As the blind slats tend to be solid and fitted inside a solid frame shutter blinds tend to be very robust. No need to worry about the cat breaking your blinds when they try to climb them!

Noise and Thermal insulation – The thicker, rigid frames of shutter blinds do a great job at insulating your home from both noise and heat
Bay window shutter blinds come in various styles, including tri-folding concertina shutters blinds and "plantation blinds" for some southern US charm. No matter which style you pick however plantation shutters are a big statement piece that will really change the feel of the bay window you install them in. Take a look at our range of shutter blinds for bay windows here.
#4 Pleated Blinds
Pleated blinds are a fabric blind, pleated in such a way that they fold in on themselves when undrawn, shrinking down into a very small space. These blinds are both practical and versatile and have a big draw of not requiring any cords, making them safer around children and pets.
The main reasons to use pleated blinds for your bay windows are:
A cordless design means you don't have to worry about children and pets getting tangled

Unique construction means they can go from bottom to top, allowing you to let in light while maintaining privacy

The unique style is great for adding colour to your home, choosing a translucent pleated blind will let sunlight diffuse through, bringing soft coloured natural lighting to your room

Choosing an insulated honeycomb pleated blind will give you great thermal insulation
Pleated blinds are available in a lot of colours, materials and linings making them highly versatile and easy to customise to your needs. They are definitely a unique style of blind however so you should put careful thought into what will suit your decor and styler best. You can view our range of pleated blinds for bay windows here.
#5 Vertical Blinds
A simple, popular, low maintenance choice. People often choose vertical blinds for bay windows, particularly larger floor to ceiling length bay windows. Similar to a Venetian blind tilted 90 degrees, the slats can be angled to control light or the whole blind can compact to one side (or split in the middle).
The best reasons to use vertical blinds for your bay windows are:
Low maintenance – The vertical profile of these blinds means they are far less likely to gather dust, meaning they need to be cleaned far less often

Economic – particularly for larger windows these types of window blinds can be a more affordable choice

Clean and Modern – Vertical blinds offer a clean, modern look that works very well in office type environments
There are plenty of styles available for vertical blinds, picking the right colour and material for your room will ensure you have a low maintenance blind solution that accentuates your bay windows. Look at our range of vertical blinds for bay windows here.
Make Sure They are Custom Fit!
There is nothing worse in a room than a blinds that do not fit. It is especially important you have correctly measured and fitted blinds in bay windows to ensure they dont catch each other at the angles where your windows meet.
No matter what kind of blind you choose make sure to get it properly measured and custom fit to ensure that your blinds add to your rooms aesthetics – not detract. Expression blinds custom fit every single blind we produce. We are proud to say we are specialists in custom fit blinds for bay windows, so you can be absolutely sure your blinds will look gorgeous and your bay windows remain an attractive, enviable feature to your home.
For more information about our made to measure blinds contact us today and we will give you a completely free, no obligation consultation and quote.