Perfect fit window blinds are a fantastic innovation in window blind technology. They are essentially either a roller, pleated or venetian blind with a neat surrounding frame that fit flush onto the window frame to provide privacy and light control whilst looking great at the same time. The main benefits of this system include:
Discreet fitting that does not require drilling or damage to the window frame
Flush fitting that keeps window ledges clutter free
Blinds are fully tensioned so they do not lap around when windows/doors are opened and closed
Child safe – no dangerous cords or loops for little ones to get caught up in
Huge selections of colours, fabric and finishes to choose from
What type of windows will they fit?
A question we are frequently asked is the type of window that these blinds are suitable for. The main criteria for being able to install perfect fit blinds is that there needs to be a rubber seal between the window/door frame and the glass. If there is one, then this will likely mean that perfect fit blinds are compatible for your window.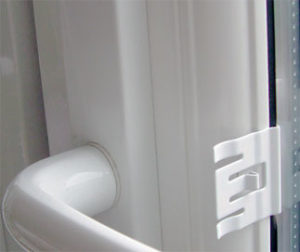 The reason that a rubber seal is required is to allow the brackets for the perfect fit blinds to be fitted. The brackets are L-shaped and slot in behind the rubber seal which then holds it firmly in place. The frame of the blinds then clip onto the brackets.
It tends to be the case that older wooden style windows and doors do not have the rubber seal, so in this case, we would need to look at INTU Screw fit blinds. Most UPVC windows will have this rubber seal so these are ideal for them.
Perfect fit blinds for aluminium windows – Are they suitable?
The simple answer is YES! Provided they have the rubber seal as described above then the perfect fit blinds will fit.
Aluminium bi-fold doors are becoming increasingly popular, and we have installed numerous sets of perfect fit blinds on this type of door. Careful attention needs to be paid to obstructions around the edge of the frame (doors handles and levers, hinges etc), however there is usually a way around them – where there's a will there's a way!
We can offer the perfect fit blinds in a range of frame colours – white, dark brown, grey, mahogany, golden oak and the latest addition is the anthracite grey, which looks amazing especially on anthracite bi-fold doors.
For more information on perfect fit blinds for aluminium windows, visit our perfect it page, or call us today! 0161 941 2686