YES.
If that's all you needed, feel free to contact us on our Contact Page or give us a call on 0161 241 9686 to book your free consultation – otherwise, read on to find out more!
What Sorts Of Blinds Are Best For Bay Windows?
Bay windows are a fantastic addition to any room, instantly making the room seem larger and letting in more light. With these advantages come a few drawbacks, though – like how it's harder to keep heat in the room. It's also harder to find blinds that can keep all the light out, adjustable blinds that can adapt to the changing position of the sun, or blinds in different sizes to fit the "picture window" and the smaller windows to the sides.
Luckily, Expression Blinds have a range of blinds types that are perfect for bay windows, including roller blinds, venetian blinds, wooden blinds and one of our favourites, bay window Roman blinds!
Roman blinds are particularly good for bay windows as they are each made from a single sheet of material, providing excellent light-blocking ability, but they fold up small in the top of the window frame when completely opened, which makes the most of the natural light potential of a bay window.
Roman blinds for bay windows are also a great option since the thick material helps prevent heat loss more effectively than other blinds, and traps a thick layer of air between the blinds material and the window pane, enhancing the insulation further on those cold winter nights.
Lastly, Roman blinds are available in many colours, prints and patterns, which will be very apparent on their large material surface, so they can really make the most of the space provided by a bay window to add to the colour scheme or décor of your home!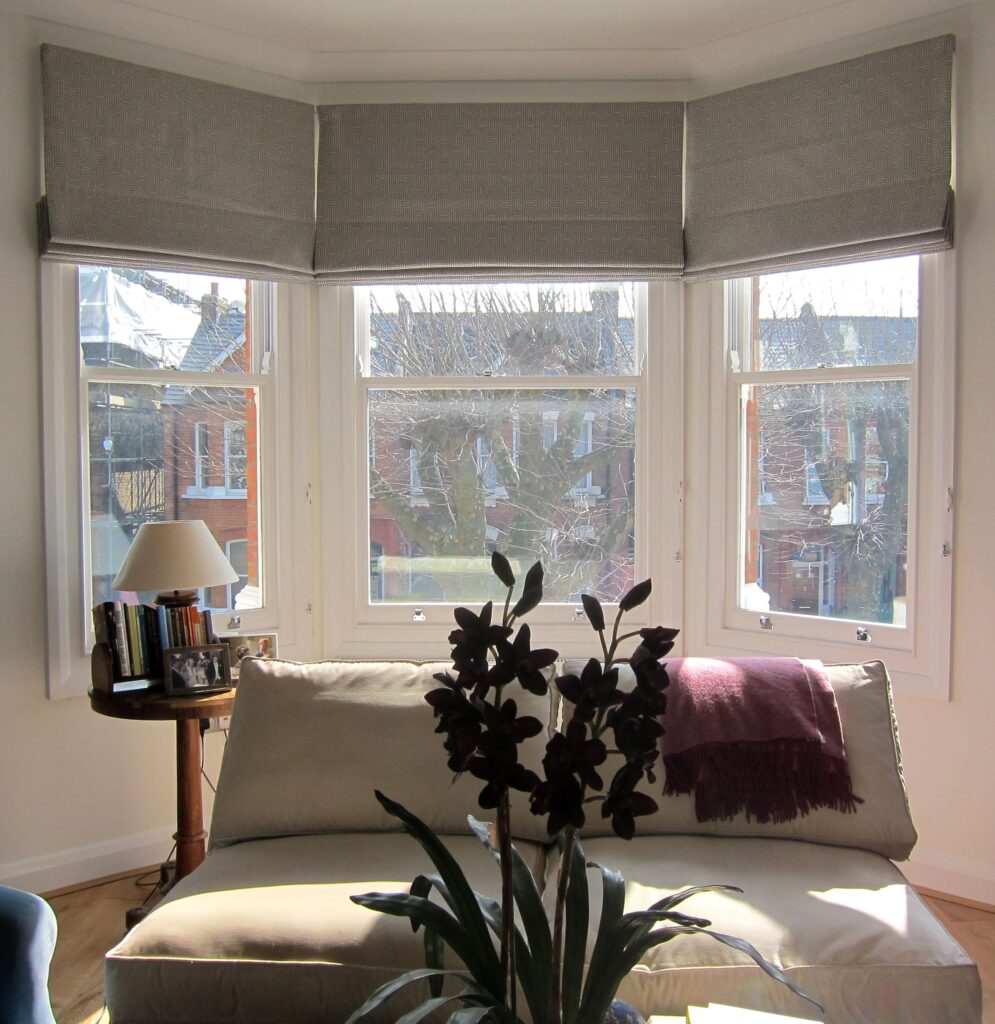 What Makes Bay Window Blinds Different?
Bay window blinds are slightly more difficult than standard window blinds for a few reasons, most of which we covered above. They're a larger surface, and more prone to heat loss. The windows are different sizes, and face in different directions, which provide challenges for the blinds design and for keeping the light out at different times of day as the sun moves across the sky. Lastly, they're a visually striking and eye-catching part of a room, so the blinds will have to look great or they'll really stand out.
All that's no problem for Expression Blinds's expert blinds fitters, though. We've been fitting bay window blinds (roman or otherwise) for more than ten years, so we'll be able to provide whatever you're looking for!
Can Expression Blinds Offer Other Blinds Types?
Expression Blinds can fit any kinds of blinds you're looking for – even on custom-shaped or non-regular windows! From our workshop in Lymm we're able to supply our customers with whatever they need, from bay window Roman blinds to Alexa-activated smart blinds that you can control with your voice. Whatever you're looking for in your blinds, Expression Blinds can make sure you get it!
Wherever you are, give us a call today – our fitters can work all over the North West, and they'll be happy to help!
All of our jobs start that way – with a free, no-obligation consultation with one of our expert blinds fitters, where you can learn more about all the available options, and you'll get a quote in writing that day if you do decide to go ahead. In addition to roman bay window blinds, Expression Blinds can offer:
Electric Blinds and Smart Blinds
And more!
The links above link to full pages where you can learn more about the different sorts of blinds, shutters and films available from Expression Blinds, or you can give us a call on 0161 241 9686 or pop on over to the Contact Us page on this site to send us a message!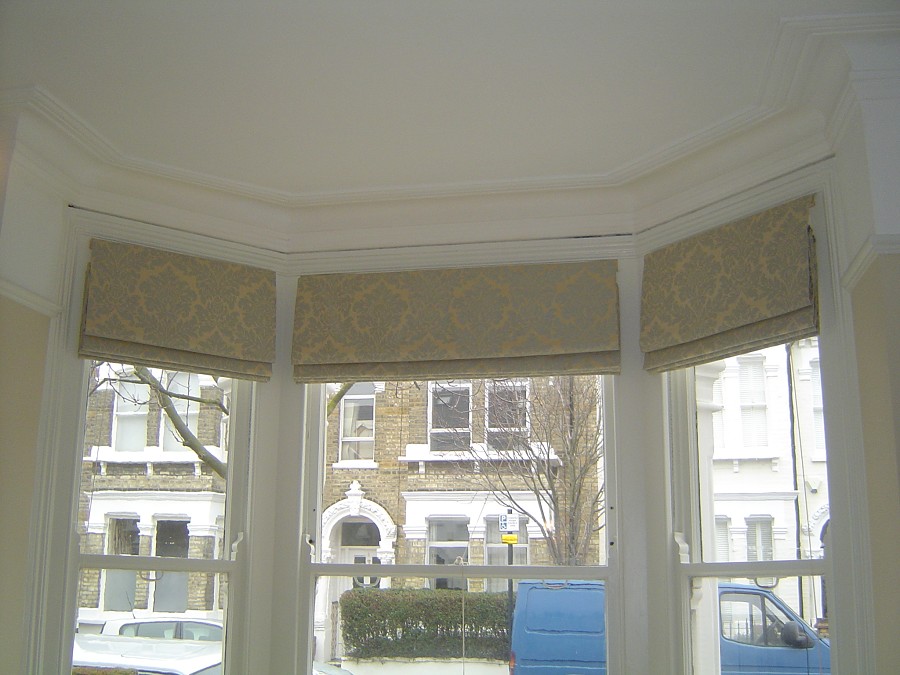 What Can I Expect From My Free Consultation?
At Expression Blinds, we like to let the quality of our work speak for itself, so we will never employ a commission-based salesperson. Your free consultation has no strings attached, and you'll never face any pressure to choose a particular option – our blinds fitters are dedicated only to finding the best option for you, whatever that might be!
Once you've contacted us on our Contact Us page, we'll sort out a date and time that suits you, then send out one of our experienced blinds fitters, who will take careful measurements of the windows or doors you'd like blinds for. This helps make sure that we'll be able to provide a perfect fit on your blinds, keeping out maximum light and preventing any unsightly gaps!
They'll talk you through all the available options, including all our different blinds types, materials and colours, and non-blinds options like window films or plantation shutters, so that you know exactly what's available to you and can make the best possible decision for your home or business. They'll be able to advise you of what would work the best for what you need, or how to best achieve what you want, and then provide a written quote date day, so you'll know exactly what the cost will be. Once that's all done, it's time for us to prepare your blinds!
Where We're Based
Expression Blinds have been operating in the North West for more than 10 years, based in our workshop in Lymm, Cheshire. From there, we fit blinds, shutters, window films or curtains as far as Liverpool, Warrington and Manchester, Chester, Blackburn, Stockport, Wigan & St Helens. No matter where you are, just get in touch with us – we'd love to hear from you!
Need Some More Information, Or Have A Question? Contact Expression Blinds Today!
Feel free to get in touch with us any time on our Contact Us page or give us a call on 0161 241 9686 between 9am and 5pm, Monday to Friday. One of our friendly head office staff will be happy to help you!