Tilt and turn windows are becoming increasingly popular thanks to the safety and versatility they provide – you may already have them installed in your home and not know that that's what they were called! So whether you're installing them now or have moved in to find them already in place, you'll need the right blinds for the job. That's exactly what Expression Blinds are here for!
What Are Tilt and Turn Windows?
First, what exactly ARE tilt and turn windows? As you can see from the image below, they're windows set in a special frame which is able to open in two different ways – a tilt open, which lets air in without creating a wide open space, and a turn open, which swings the window open like a door. These two options give you choices with your windows that no other frame type can – and the multiple fixing points in the frame mean tilt and turn windows are very secure and sturdy. The only problem is that sometimes, certain types of blinds don't work well with the multiple opening methods, and can get in the way – so read on to find out what our team recommends!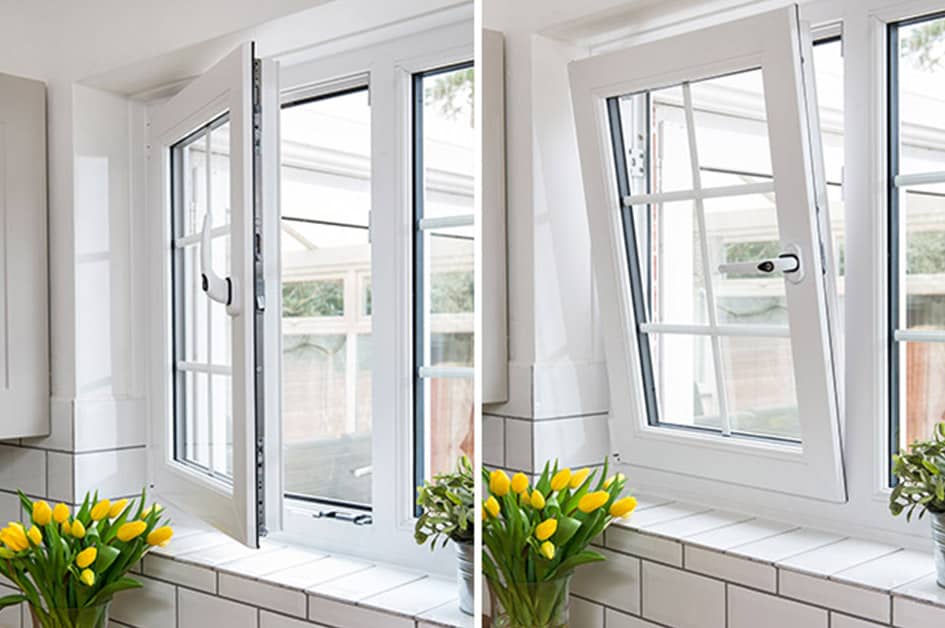 What Blinds Solutions Work For Tilt and Turn Windows?
As we mentioned above, occasionally, certain types of blinds can interfere with the opening options on tilt and turn windows – so a common solution is to install the blinds outside the recess, where they can't get in the way. If that's a good option for you, your fitter can discuss it during your free consultation, but they'll also go through plenty of other options to get your windows looking great!
What Are The Best Blinds For Tilt and Turn Windows?
As we mentioned above, your fitter will talk you through all the options for your windows at your free consultation, and can assess your windows and your goals for the room to provide the best possible solution for you. If you have tilt and turn windows, they may suggest a few of these blinds options to you, as each has been proven effective and stylish when paired with tilt and turn window frames.
Perfect Fit Blinds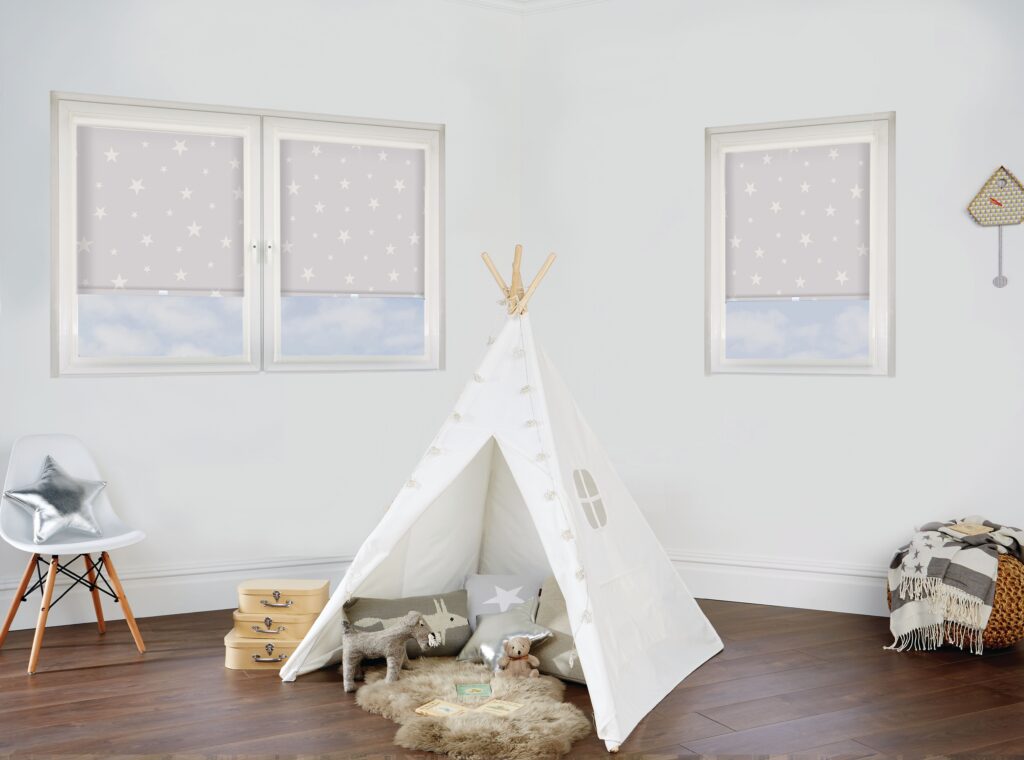 Perfect fit blinds are the gold standard for tilt and turn windows, since they clip into the window frame itself instead of hanging in front. This means that the window can open in any configuration without the blinds getting in the way, and can even be opened while the blinds are shut!
This is thanks to the design of perfect fit blinds, which are self-contained within a frame that fits into your window without needing any nails or screws. Check them out at our Perfect Fit Blinds page or give us a call today to find out more!
Venetian Blinds
If you don't want to go for Perfect Fit blinds, then Venetian blinds are an excellent option for tilt and turn windows thanks to their straightforward, neat design. Venetian blinds can open fully and sit neatly out of the way of the window, or can be raised or lowered to any desired height to suit your needs at the time, so whether you're opening the window fully or just tilting it a little to let the air in, you'll be all set.
Take a look at our Venetian Blinds page for more info, or give us a call today – we'll be happy to hear from you!
Wooden Blinds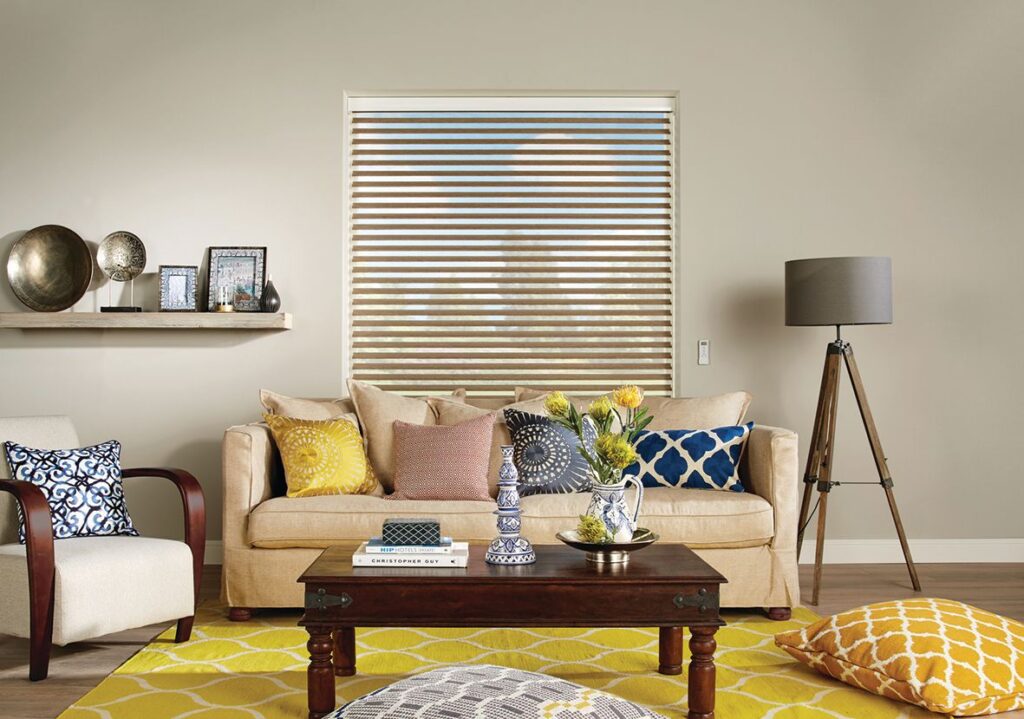 Lastly, wooden blinds are a fantastic option for tilt and turn windows. Operating like venetian blinds, but made from strong, stylish and durable wooden slats instead, they are just as neat when completely opened, and can complement both modern décor themes and more rustic, cosy décor!
Check out our Wooden Blinds page to find out more information, or get in touch!
Can You Get Plantation Shutters For Tilt and Turn Windows?
Expression Blinds don't just make and fit blinds – we can also provide you with a gorgeous set of plantation shutters in any style, colour and configuration you want!
Plantation shutters work well with tilt and turn windows since they're set on the outside of the window frame and won't interfere with the window's operation when open. Plantation shutters are also easy to adjust to control the amount of airflow entering a window, which can be used in conjunction with the tilt and turn design to give you very precise control over how much air is getting in – ideal on a hot summer day or a breezy autumn afternoon!
Check out our Plantation Shutters page for more information on what's available and how we can help you, or give us a call today to find out more!
Where We're Based
Expression Blinds have our main workshop in Lymm, Cheshire, but we're able to operate all across the North and North West of England, so give us a ring wherever you are and we'll see what we can do for you! We've fitted all sorts of blinds and shutters from Liverpool, Warrington and Manchester (plus Greater Manchester, including places like Altrincham and Oldham) to Chester, Blackburn, Stockport, and as far out as Wigan & St Helens. Let us know where you're based and we'll do our best to accommodate you.
Looking For Blinds For Your Tilt And Turn Windows? Contact Expression Blinds Today!
If you've still got any questions about the best blinds or shutters for tilt and turn windows – or if you've got any more specific blinds problems you need help with – don't hesitate to pick up the phone and give us a call on 0161 241 9686 between 9am and 5pm, Monday to Friday, or send us an instant message at any time using the Contact Us page on this site!
Tilt and turn windows are just one of the hundreds of window and door types that our team have been working with over the years, and they've got more than enough expertise and experience to help you with whatever you need. Whether you need information on a project, to book a consultation, or just some friendly advice, just get in touch. The team will even run you through the fitting process and the free consultation, so you'll know exactly what to expect during your fitting.
We look forward to hearing from you!