The future of blinds is here, and it's fitted straight to your windows by Expression Blinds – the Perfect Fit Vision roller blind! We've been making and installing Perfect Fit blinds for a while now, and we're delighted to announce that the impressive and versatile Vision blinds are now available in the Perfect Fit format.
Fitted securely onto your window frames without the need for nails or screws, Perfect Fit blinds are self-contained and fold neatly down over the glass. They provide superior window coverage and are great for light control, and now, thanks to the addition of Vision Blinds to our Perfect Fit range, their light control and privacy options have expanded even more!
Why Choose Perfect Fit Vision Roller Blinds?
Vision Roller Blinds are unique – they are made with a twin layer of material that gently filters sunlight and eliminates glare without spoiling your view, and provides the option of a privacy blind to shut out the light when you want it. The two layers of material can slide over one another, allowing you to control exactly how much light you want to let into the room, and they're available in a wide range of stunning finishes, from metallic tones to muted, understated colours that will fit any décor scheme.
Since they come in a Perfect Fit frame, they clip directly to your window frame, and won't get in the way of curtains, flowers or picture frames on the windowsill, or any other window dressing. There are no dangling cords or rods, so they're a safer option in households with pets or children, and the frame can be made to match whatever colour scheme you choose.
All our Perfect Fit Vision Blinds are custom-made to your order, so talk to your fitter about what you'd like and what your options are, and they'll help you find the ideal blinds solution for you.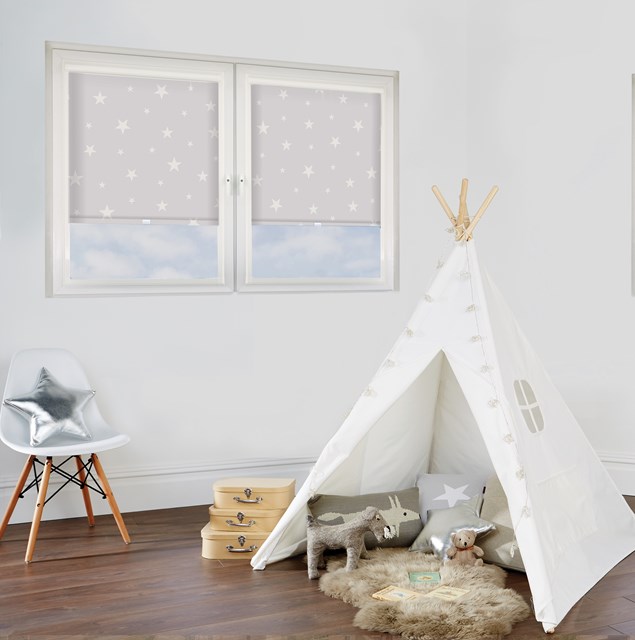 Can Perfect Fit Vision Blinds Be Used With Plantation Shutters?
Yes! Perfect Fit Vision Roller Blinds fit into your window frame against the glass, so they're well out of the way of curtains, shutters, and anything on the windowsill.
They work particularly well with plantation shutters (like those fitted by Expression Blinds, for example) since Vision blinds can be adjusted to precisely control the amount of light entering the room, and so can the slats of plantation shutters.
Can Perfect Fit Roller Blinds Be Made Electric?
Your fitter will talk you through all of your options during your consultation, but we are able to make your blinds electric and even integrate them with home assistants like Alexa in most cases. Just let us know if that's something you're interested in, and we'll see what we can do for you!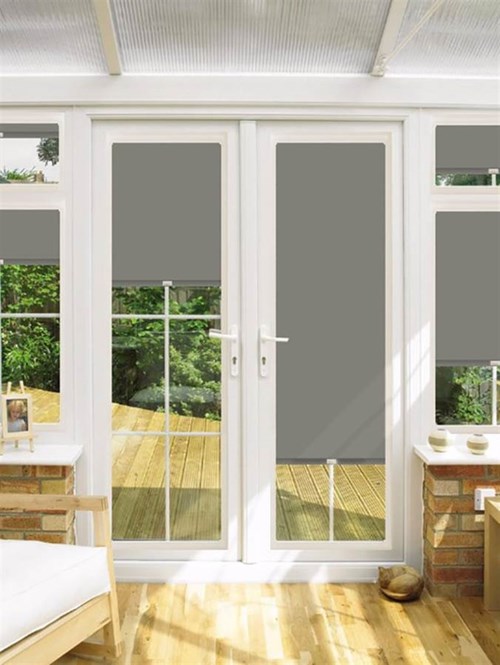 Why Not Just Get Regular Roller Blinds?
Roller blinds are an excellent choice thanks to their exceptional light-blocking abilities, adjustability, and durability – but Vision blinds give you the option of adjusting the blinds material itself to control light entering the room to an even better degree, giving you an intermediate stage between the blinds being open or closed that no other roller blinds can provide.
What Other Blinds Do Expression Blinds Offer?
We make all of our blinds to order here at Expression Blinds, so we're able to cater to almost any blinds- or shutters-related need. All of our jobs start with a free consultation with one of our expert blinds fitters, so you can learn more about all the available options and what works best for you, and you'll get a quote in writing that day if you do decide to go ahead. In addition to Perfect Fit and Vision Blinds, Expression Blinds can offer:
Roller Blinds
Panel Blinds
Pleated Blinds
Vertical Blinds
Venetian Blinds
Roman Blinds
Electric Blinds
Wooden Blinds
Plantation Shutters
And more!
All of the links above lead to full pages where you can learn more about the different sorts of blinds, or you can give us a call on 0161 241 9686 or pop on over to the Contact Us page on this site to send us a message!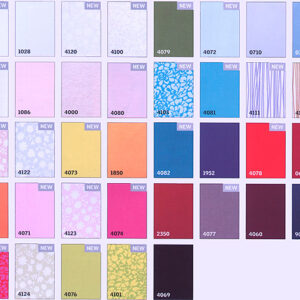 Where We're Based
Expression Blinds can fit the new Vision Perfect Fit blinds all across the North and North West of England, based out of our primary workshop in Lymm, in Cheshire. We've been fitting blinds and shutters for years all across Liverpool, Warrington and Manchester (plus Greater Manchester, including places like Altrincham and Oldham) and Chester, Blackburn, Stockport, Wigan & St Helens. Wherever you're based, just let us know and we'll do our best to meet your needs.
Got A Question About Blinds? Contact Expression Blinds Today!
If you'd like to know more about Perfect Fit Vision Blinds, or if you'd like to book a free consultation with one of our fitters, just pick up the phone and get in touch! You can reach our head office on 0161 241 9686 between 9am and 5pm, Monday to Friday, or use the Contact Us page on this site to send us a message at any time!
Our experienced team will be happy to answer any questions you might have about any of our blinds types, and can talk you through exactly what to expect during your consultation and fitting process, so you know what'll be happening at every stage of the process.
Whether you need information on a project, to book a consultation, or just some friendly advice, just get in touch.
We look forward to hearing from you!