There are lots of reasons why you'd want to install wooden blinds in your home – we've written about them before, actually! But what makes these blinds a particularly great choice for your living room?
These stylish, elegant blinds are a great choice for a living space, and alongside faux-wood blinds, they're some of our most popular blinds types. Here are seven reasons why you might want them in your living room!
They're versatile.
Wooden blinds, like any venetian blinds design, are very adaptable and can be adjusted in any way you want, to increase the amount of light getting in, block glare from the sun, or allow a breeze to roll in.
However, wooden blinds also have the advantage of their material – wooden blinds have a very stylish and relatively neutral appearance, which makes them a great component of any décor style. They work equally well in chic, minimalist modern aesthetics or more rustic, vintage styles. They match any colour palette and the natural beauty of the slats never looks out of place, so whatever you've got planned for a room, your wooden blinds should fit right in!
2. You get a choice of finish.
If you do decide that you want to enhance your wooden blinds with a different colour, there are plenty available – white wooden blinds are increasingly popular, but ivory and cream, natural sandy tones, dark oak and even rich, dark mahogany finishes can really make your wooden blinds stand out from the crowd.
The tone of your wooden blinds will affect the feel and aesthetic of the room, so if you've got a specific vision in mind but you don't want to compromise on the beautiful natural texture of your wooden blinds, these finishes might be exactly what you're looking for!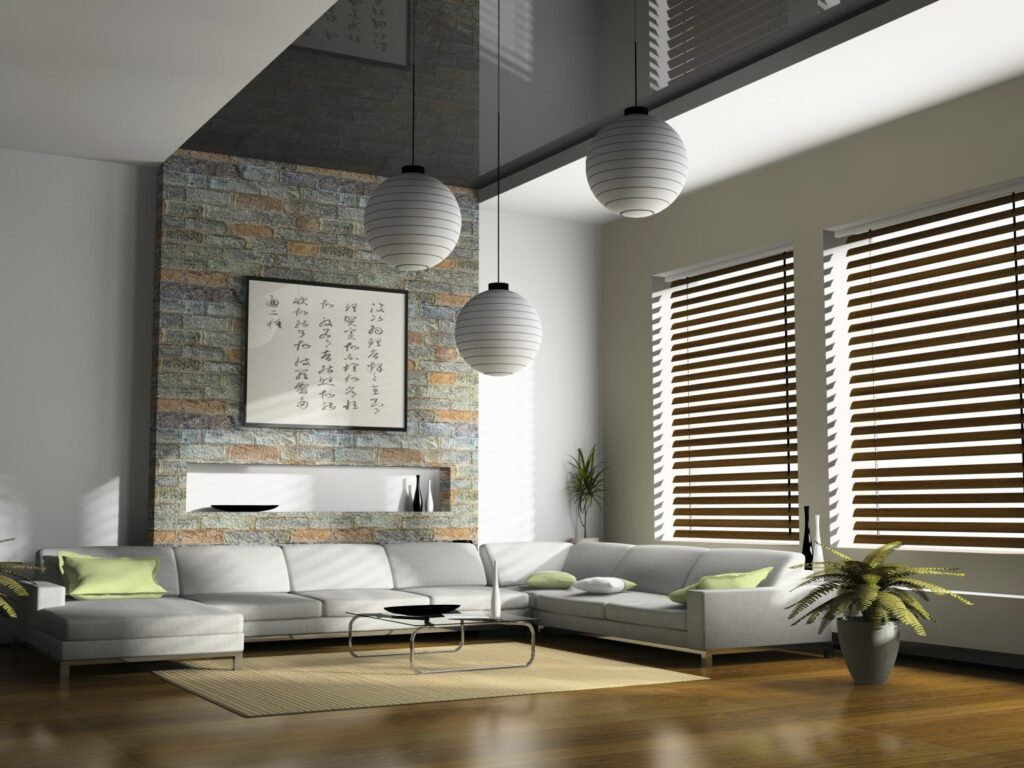 3. They layer well with other window dressing.
Something that's often not considered when thinking about blinds is layering with other window dressings – especially curtains or plantation shutters. By matching up window dressings this way, you can not only enhance the individual capabilities of each one, boosting insulation, shade and noise reduction, but you can also create really visually engaging spaces – and wooden blinds match up so well with curtains and shutters that they make it relatively easy to create a fantastic aesthetic.
Speaking of layering with other window dressings;
4. Wooden blinds are great insulators.
Wood naturally insulates, and doesn't conduct heat readily. When your wooden blinds are closed, there is a non-conductive barrier between your living room and the window that makes it much harder for heat to escape, so you'll stay cosier in the winter and cooler in the summer!
Wooden blinds also have a very naturally "warm" aesthetic, and so they also help a room to feel warmer and cosier, even if the heating's not even on!
5. They help cut out sound from outside.
Wooden blinds, being made from a strong, non-conducting material, are also able to reduce the amount of noise being transmitted through your windows – which is great news if you live in a busy area or you just want to settle down and watch a little TV!
When paired with thick curtains or plantation shutters, this effect is even more pronounced, so if you fancy a little peace and quiet, wooden blinds may be just the thing.
6. Wooden blinds are a fantastic fit for bay windows
If you've got a living room with bay windows, then wooden blinds could be the ideal choice of window dressing for it! Expression Blinds make all of our blinds to measure, and all of our services start with a free, no-obligation consultation with your fitter where precise measurements will be taken, which we can then use to make blinds that fit your windows perfectly.
Your bay windows will look best with a custom-built blinds set, and might not fit anything off-the-shelf – so give us a call or send us a message today to find out what we can do for you!
7. Want the look of wood blinds but not the wood itself? We've got a whole range of faux-wood blinds too!
If real wood blinds aren't the ideal solution for your windows, then faux-wood might be exactly what you're looking for. We have a range of faux-wood blinds that are made from tough, light uPVC, which makes them water-resistant, easy to clean, and long-lasting – an ideal window dressing for a living room that sees double duty as a playroom!
All of our faux-wood blinds come with a natural-looking wood-textured finish, so they'll look just as great as wooden blinds, with even less hassle. Check out the faux-wood blinds page for more information!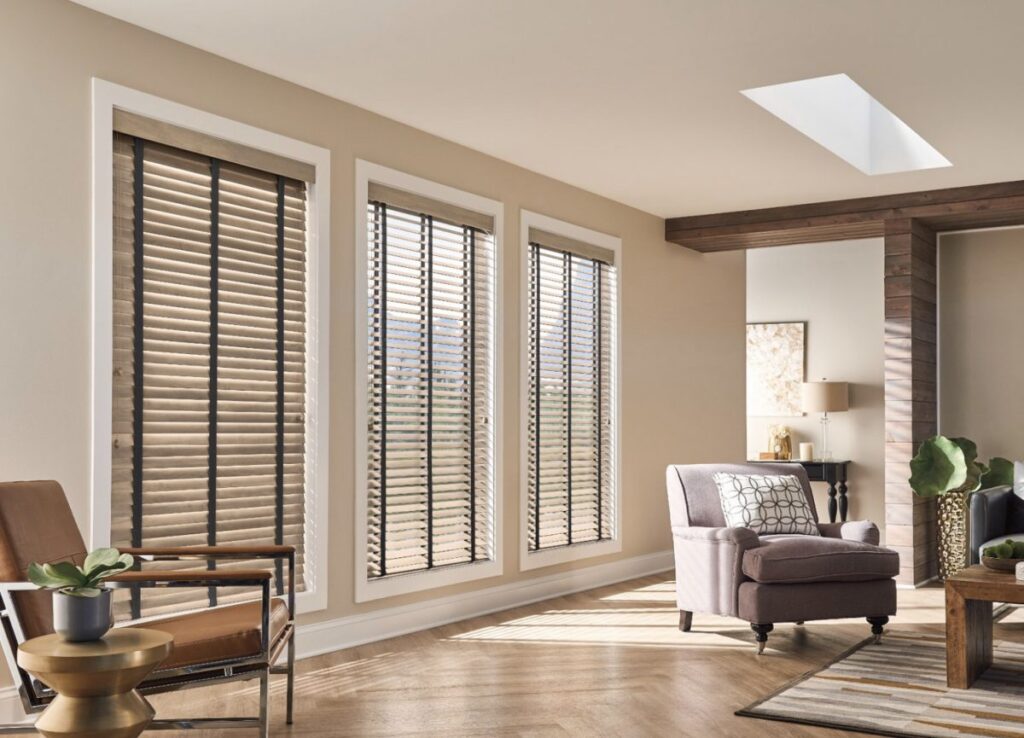 Can Expression Blinds Offer Other Blinds Types?
Expression Blinds don't just specialise in wooden blinds – we're a fully-equipped custom blinds fitter in the North West of England. We've been designing, making and fitting blinds for more than ten years, so we can handle any job you might have for us – from small blinds for your bedroom window to the giant custom blinds on the Etihad Stadium, which we made and fitted a few years ago!
We work all over the North and North West, so wherever you are, give us a call today to book in your free consultation. We'd be happy to help!
All of our jobs start that way – with a free, no-obligation consultation with one of our expert blinds fitters, where you can learn more about all the available options, and you'll get a quote in writing that day if you do decide to go ahead. In addition to wooden blinds, Expression Blinds can offer:
Electric Blinds and Smart Blinds
And more!
The links above link to full pages where you can learn more about the different sorts of blinds, shutters and films available from Expression Blinds, or you can give us a call on 0161 241 9686 or pop on over to the Contact Us page on this site to send us a message!
Where We're Based
Expression Blinds have our home in our workshop in Lymm, Cheshire, so we can fit blinds, shutters, window films or curtains all over the North West, from Liverpool, Warrington and Manchester, to Chester, Blackburn, Stockport, Wigan & St Helens. No matter where you are, just get in touch with us – we'd love to hear from you!
Looking For More Info or Just Want Some Friendly Advice? Contact Expression Blinds Today!
Even if you're not looking for a blinds installation right away, you can get in touch to ask for some expert advice or get the answer to a question! You can reach our head office on 0161 241 9686 between 9am and 5pm, Monday to Friday, or you can go to the Contact Us page on this site to send us a direct message at any time of the day or night. We look forward to helping you!