As Ned Stark said, "Winter is Coming" – and he was right, no matter what time of year he said it. Autumn is just around the corner, and that means the nights will be getting longer and the temperature will be getting lower.
Make sure your house is ready with window insulating blinds from Expression Blinds – we have a wide range of blinds that provide great insulation value, including roller blinds, roman blinds, pleated blinds and even non-blinds window treatments like thick curtains that can help to keep the cold at bay.
The Best Insulating Window Blinds Create Layers of Trapped Air
Insulating window blinds are a great way to insulate your windows and make the most of them regardless of the weather outside. Roller insulating blinds, pleated blinds and roman blinds in particular have been shown to be effective insulators, using single sheets of thick, insulating fabric to create a layer of air between your window and the room beyond, helping to trap heat within where it belongs. This is especially powerful when combined with thick curtains, which create a second layer of trapped air, using the same principal that layered cold-weather clothing uses to keep you warm on a snowy day!
Not only can these blinds reduce heating costs, but with their light filtering capabilities they can also allow light in when closed, making the most of the winter sun whenever it comes out and providing natural ambient light in a room without compromising on your insulation.
Insulating Blinds Are A Great Choice In Summer, Too!
The primary purpose of blinds is often to keep sunlight out of a room when it isn't wanted – but many of the blinds available from Expression Blinds also serve to keep rooms cool in the hottest summer months. We have a range of insulating window blinds specifically tailored to reflect sunlight away, blocking out heat from getting in as efficiently as they block it from escaping in the winter months. Roller blinds and venetian blinds are particularly great for conservatories, sun rooms or rooms with large, prominent windows or French doors where direct exposure to the sun is more of an issue – they will help keep your room temperature cool when you need it most and serve double duty in the winter to keep you cosy!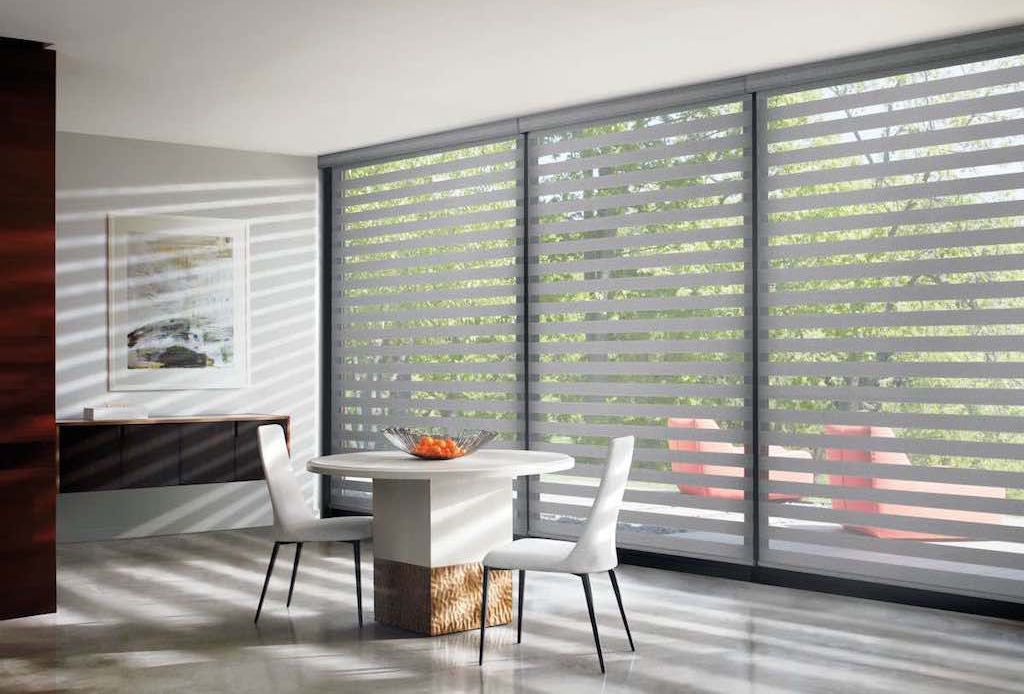 Look Into Solar Window Films
Solar window films can be used to allow light into a room without allowing in too much heat or too much damaging UV radiation that may bleach your floors or furniture. While this seems like a window treatment that would only really be useful during the summer heatwaves, it works both ways – in the winter, these window films can help to insulate your windows by allowing light in without allowing too much heat radiation out, helping keep you cosy even if the blinds and curtains are wide open!
What Blinds Types Do Expression Blinds Offer?
Expression Blinds have been providing insulating blinds all across the North West of England for more than ten years, so we can fit any blinds you might need us to – from small ones in your living room to giant ones on the Etihad Stadium!
Our fitters can go wherever you need them to, so wherever you are in the North West, just give us a call today or get in touch on our Contact Us page, and we'll sort a time to send someone out to you!
All of our work begins that way – with a free chat from one of our expert fitters to help you find the ideal blinds solution for your home or business, and so that they can take all the necessary measurements to ensure a perfect fit, every time. They'll also provide all the expert advice, professional guidance and personal opinion you could need to help you find the perfect solution for your space, taking into account the different blinds types available, the materials, colours and patterns, and your requirements for performance.
In addition to window films, shutters and curtains, Expression Blinds can offer:
Electric Blinds and Smart Blinds
And more!
All of those links will take you to full-length pages where you can learn more about the different sorts of blinds, shutters and films available from Expression Blinds, or you can give us a call on 0161 241 9686 or pop on over to the Contact Us page on this site to send us a message!
Where We're Based
Expression Blinds are based at our workshop in Lymm, Cheshire, where prepare your blinds, shutters, window films and curtains for fitting all over the North West, from Liverpool, Warrington and Manchester, to Chester, Blackburn, Stockport, Wigan & St Helens. No matter where you are, just get in touch with us – we'd love to hear from you!
Looking For More Info on Blinds Insulation or How Window Treatments Can Help With The Cold? Contact Expression Blinds Today!
Whether you need help with keeping the cold out this winter, or you'd just like to know more about keeping your home cosy and warm, we'll be happy to help you. You can give our head office in Lymm a call on 0161 241 9686 between 9am and 5pm, Monday to Friday, or you can go to the Contact Us page on this site to send us a direct message at any time of the day or night. Get in touch today!