Blinds for Bay Windows – Do You Need Them?
Bay windows can be a beautiful feature in any room, be it a lounge, kitchen, dining room or bedroom. They let in plenty of light, give stunning views out of the room and look beautiful. But they can pose a slight problem – whats the best way to cover them for privacy and shade? At first glance they may look slightly problematic when it comes to installing blinds. They're often large, and sometimes the windows are curved. However, there are plenty of blinds for bay windows available to you! Take a look below to see some of our favourite suggestions.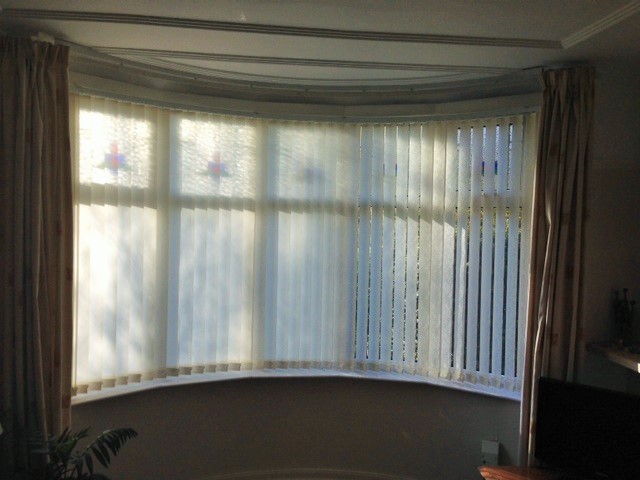 Vertical Blinds
We can manufacture vertical blinds to a larger size than any other type of blind. This means if the user only wishes to have one blind covering the window, we should be able to make a vertical that will fit that window. The other key advantage of installing a vertical blind for bay windows is that the tracks can be curved to fit the window perfectly.
Alternatively, we can install one straight vertical blind for every window panel, allowing the blinds to follow the curvature of the bay, but gives added flexibility in that the user can open certain parts of the window whilst closing the others. This option is proving very popular with out customers at the moment.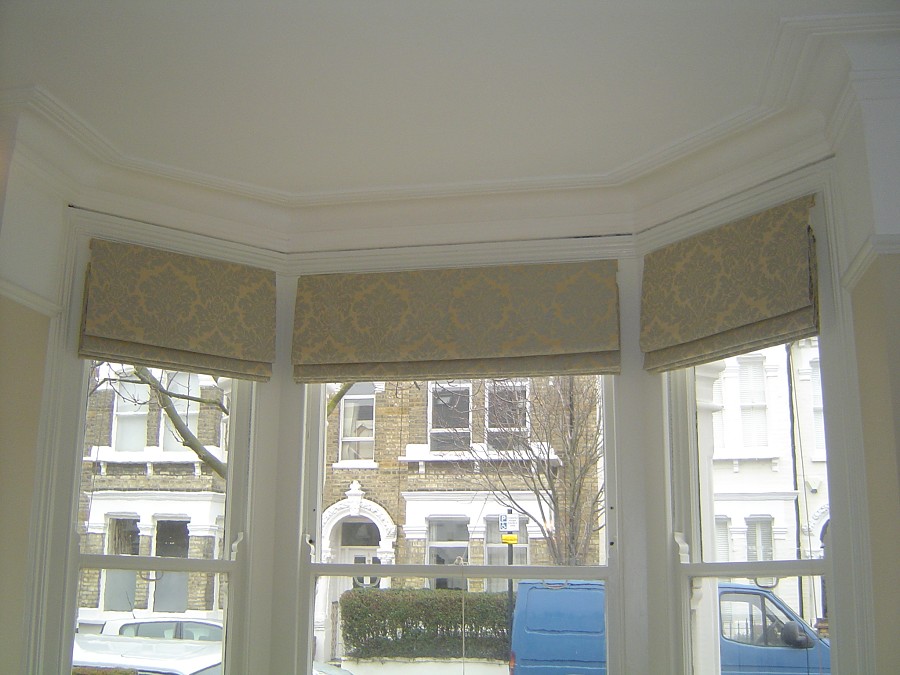 Roman Blinds
Another popular option for bay window blinds is roman blinds. These are a traditional style of blind, which folds up on itself. We can supply roman blinds in a huge variety of colours, patterns and prints, which means they can make a stunning feature out of a window. This ca be particularly effective when installed at a bay window.
We can't supply roman blinds with curved rails, but we can install one blind for every window panel, which will allow the blinds to follow the shape of the bay, creating a striking visual effect.
Further to this, all our roman blinds are fully lined with either cream or blackout lining, allowing the user to perfectly control the amount of light in the room. All our roman blinds are available on a sidewinder mechanism, which we believe is the easiest and most effective method of raising and lowering the blinds evenly. These sidewinders are available in a choice of white, brown or chrome to best suit the theme of the room.
Roman blinds are simply beautiful on bay windows, and you have great control over the shade and light in the room. If the sun is shining through one window, you can lower the blind on that side until the shine is blocked out, but leave the other blinds open and still have great natural light in the room. Roller blinds can also be used in the same way as Roman blinds to cover bay windows.
We have plenty of colours and styles available, and extras like trims and finishing touches to create a beautiful effect!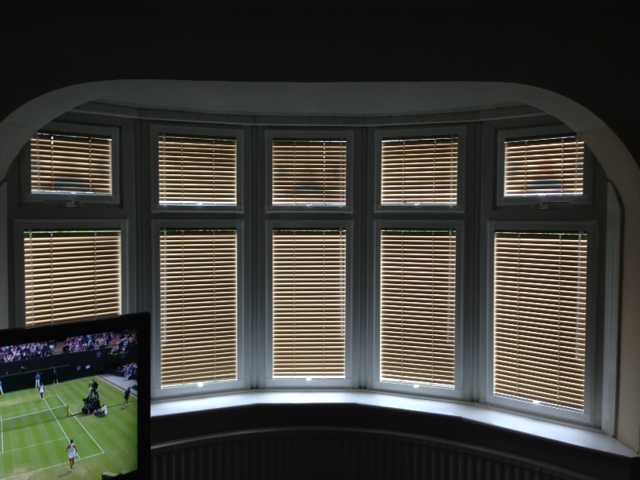 Perfect-fit Blinds
Another extremely effective option for bay window blinds is perfect fit blinds. These are classed as the next-generation of window blinds, and allow Venetian, pleated or roller blinds to be fitted 'perfectly' onto windows via a frame surrounding the main body of the blinds. This clips onto the frame itself, leaving the windowsills clutter free.
Perfect fit blinds can be screw-fitted onto the frames, or clip-on to minimise damage. Each blind will then open individually, allowing maximum control over the light allowed into the room. This style of blinds is also great if you have small children.
These blinds look truly stunning, and provide privacy and shade whilst maximising the area surrounding the windows. Indeed when the blinds are open, one could be forgiven for not realising the blinds were there at all! We have a huge array of colours, patterns and fabrics available in the perfect fit ranges, give us a call today to see the full selection!
In short, I believe that Blinds for Bay Windows are a necessity. Not only are they practical, they provide an extra texture to the decor in your home.
Our free, no obligation choose at home service will provide you with expert advice to ensure you receive the blinds that will perform exactly right for you. We will work closely with you to design your blinds, meet your budget and taste requirements.
So what are you waiting for? View our full range below, give us a call at 0161 248 9686 or fill out our contact form below for a free consultation to begin to transform your home!
Still a bit unsure? View a demonstration below to see if Bay Window Blinds are right for you!