Why use Patio Awnings?
Awnings are a great alternative to a sun house or gazebo as they are easy to install and can be folded away out of sight within seconds.
They also provide elegance and beauty to your house, not to mention they are great for summer BBQ's or winter hang outs with family & friends.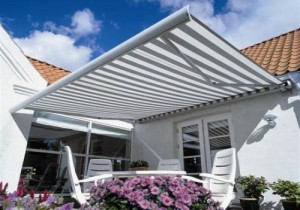 The English weather is anything but predictable and it's always a hassle to move everything in doors when it gets a bit chilly. So be prepared for the inevitable cool evenings with an electric heater. They are much more eco-friendly than gas heaters and can easily be built-in so they won't need storing away.
An awning can be made to suit any property, no matter how big or small, and is a perfect option if your outside space is limited as they are not a permanent fixture. They come in a range of colors and can be as neutral or as colorful as you want.
Opting for brightly colored awnings can give houses a warm Mediterranean look. For gardens that have no shade from trees or hedging, awnings can provide the older generation with a cool spot to relax in a deck chair and watch the children play in the sunshine.
So for an amazing feel & look to your house think awning!
Expression Blinds also offer made to fit Blinds so that your house really looks stylish.