At Expression Blinds, we like to offer our customers the latest innovations in the window blind market, and also to make life a little easier too. With this exciting new product, we can do both! Introducing motorised roller blinds, the new innovation in window blind technology!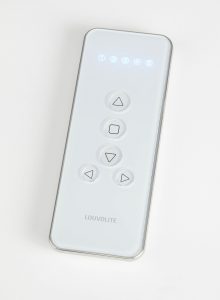 Motorised roller blinds are, as the name suggests, roller blinds that work on a simple motor system.
They allow the user full control of the roller blind without having to touch them! We supply them with the Louvolite OneTouch system, which is a discreet, lightweight motor that comes with a sleek remote control to work the blind (see right). The user can control the blind to move up and down, and stop at any desired height. Further to this, up to 5 motorised roller blinds can be operated using a single remote, and the blinds can be operated individually or all at the same time, for even easier control.
The advantage of motorised roller blinds are numerous, including:
No wires – If you select the battery powered blinds, then there are no cables/wires to get tangled up! They simply need plugging in when required to recharge, in the same way you would plug a mobile charger phone in. The frequency of the charge does of course depend upon how often the blinds are used, but as a general rule, once every few weeks will suffice.
Ease of use – No more shuffling from blind to blind to open and close them! With one remote control you can operate multiple blinds, setting each one individually or operating them all at the same time. The choice is up to you! This is particularly great if you have several blinds together on a bay window, set of doors or conservatory.
Out of reach windows – In many modern day houses and conversions, windows can be placed in difficult to reach locations. If it is not practical to reach the windows to operate the blinds then electric blinds are the ideal solution.
Child safety – With this being at the forefront of blind manufacture and many customers minds, electric blinds are perfectly child safe as there are no loops or cords to get tangled up in. Also great if your pets get caught up in your current blinds cords!
Affordable – Whilst being more expensive than the standard vertical and roller blind ranges, they are still more affordable than many people think. Give us a call to arrange you FREE quotation today!
For more information visit our motorised blinds page, and view the following video: