There is no denying that blinds look simply stunning when hung at your window but for blinds to look their best, they require regular care and maintenance. And with high quality window blinds from Expression Blinds this can be as easy as pie!
Your window blinds will need a thorough cleaning at least once a year. The material and construction of your blinds determines how you dust and clean them. Light cleaning (such as dusting) methods can be used on all types of blinds. However for heavier cleaning we recommend that you use the cleaning techniques advised for the specific type of blinds in order to get a longer-life from your window coverings.
Light Cleaning
Dusting regularly with a microfibre duster, feather duster or soft cloth provides a huge benefit to all window blinds. Specialised dusting tools are available which feature 'fingers' for a more seamless dusting approach. These dusting appliances are typically constructed of soft cloth or sponge and can be found at any supermarket/ home improvement store.
For heavier dusting use the small brush attachment of your vacuum cleaner to gently run over your blinds. Make sure that the suction of your vacuum is on the lowest setting to avoid damaging your blinds.
Heavier Cleaning
Metal & Vinyl Window Blinds
Metal and vinyl blinds can be cleaned with warm, soapy water and a soft sponge. Liquid dish-washing soap works extremely well for these types of blinds. We suggest removing the entire blind from its window and placing it in a bathtub then gently going over the slats with a soapy sponge.
Once you have thoroughly cleaned your blinds and removed all dirt, rinse your blinds with a hand-held shower or spray nozzle. Make sure you rinse away all soap otherwise spotting may occur. Dry your blinds gently with a hand towel and re-hang on your window. Make sure that the blinds are open so that the air can get between each slat.
Wooden Window Blinds
Wooden blinds can be easily cleaned with a high quality furniture polish and a soft cloth. We suggest spraying the cloth with furniture polish, wiping each slat individually and avoid touching the cords. For heavier cleaning, use water and wipe immediately after to prevent saturation and warping of the wood.
Fabric Window Blinds
To remove dust and dirt on your fabric blinds use a vacuum cleaner and for heavier dirt wipe with a dry sponge. If you have stubborn stains on your window blind use warm water, a mild liquid soap and a sponge. We highly recommend that you blot your blinds as opposed to rubbing to avoid damaging the fabric of your blind. If the stain will not budge, professional cleaning will be required.
Cleaning the Pull Cord on Your Window Blinds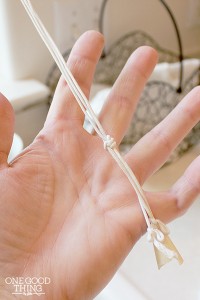 Expression Blinds came across this excellent article by One Good Thing By Jillee on how to clean the pull cord on your window blinds. And we must say that it is that fantastically simple, we must share it with you all!
Firstly you have to take a small plastic bag and fill it with a 50/50 mixture of hot water and bleach. If you have an aversion to using bleach, Jillee has a natural alternative you can try.
With some assistance, carefully put your lift cord into the bag, twist the top of the bag and secure it close with a clothes peg or rubber band. Make sure the bag is very secure and leave over night. In the morning you will have new window blinds to admire!