There are many types of blinds on the market today. Very few however, match the beauty and practicality of Velux Blinds. Velux is a huge company, and dominate the skylight roof market. Based in Denmark, they employ roughly 10,000 people and have sales offices in 40 countries world wide. Not bad eh? Therefore if you have a skylight window in your home, or are looking at having some installed, there's a good chance they will be Velux windows. Apart from the obvious high quality and craftmanship of the windows, there is a big advantage to selecting Velux to supply your windows; they have a huge array of blinds that will fit the windows EXACTLY.
Velux blinds give a very similar appearance to the popular Perfect Fit range, in that they are fitted into the window with a neat and stylish frame that surrounds the blind fabric. As each blind is manufactured by the same company as the windows, they fit the window exactly. This means that the blackout blinds block out 100% of the light coming through the window, making them the most effective blackout blind on the market!
All of the Velux ranges are tensioned, meaning they work perfectly on the skylight windows. You have complete control as to where the blind sits, and as to how much light is allowed into the room. The venetian options give you extra versatility to tilt the slats of the blind, as well as lifting them up and down.
Selecting the ideal blind for your window couldn't be easier. Every Velux roof window has a unique data plate that details the type and size of the window. Check your windows type and size, no measurements are needed.
Once we have established the size of blinds you require, there are quite a few options available to you. By following these next statements, you should be able to select the ideal blind for your window.
What Are You Looking For In Velux Blinds?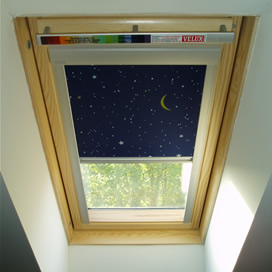 1) I want to be able to block out the light – Blackout Blinds
Velux blackout blinds give the best of total darkness for both day and night. Perfect for afternoon naps and those later summer nights, and just right to ensure the kids get the deep sleep they need. They will keep you comfortable and improve the energy efficiency of the window too, increasing the insulation by up to 20%.
Help to turn day into night
Energy-efficient with aluminium backing as standard
Reduces heat gain and heat loss
Available in a wide range of colours and designs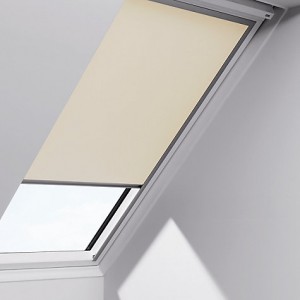 2) I want to be able to diffuse the light – Roller Blinds
Velux roller blinds are simple, elegant and always stylish. They are an effective and practical solution that offers both protection and good looks wherever it is used. Just pull down and create the room-changing mood you're after. Diffuse the light, and if required ensure your basic privacy.
Provides basic privacy
Diffuses the light
Wide range of colours and patterns
Can be positioned any any height for precision light control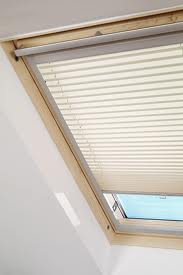 3) I want to soften the light – Pleated Blinds
Velux blinds aren't designed just to be technically efficient and hard wearing. They're designed to be beautiful, and to allow you to exoress yourself. The pleated ranges not only allow you to create colourful and original light effects, they can help you compliment your furniture and decoration too.
Allows flexible position in the windows – they are not fixed to the top or bottom
provide basic privacy and control of sunlight
Elegant, soft decorative effect
100% transparent cloth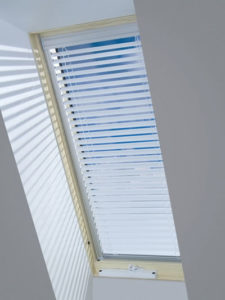 4) I want to adjust the light to suit me – Venetian Blinds
A Velux venetian blind can turn an ordinary room into a space of true beauty. A kitchen for instance, becomes the perfect combination of simple chic appeal and everyday practicality. This popular range is the ideal solution, in fact, for any place encountering high levels of humdidity. The aluminium coating helps to regulate the temperature in a room, retaining the heat in winter and reflecting the heat in summer.
Design features make operation simple and convienient
Variable angle of slat for precise light control
Improved aesthetics with no cord control or holes
Easy to wipe clean
Once you have the window code and decided on the blind all you need to call us for a price! Then if this meets your budget we can arrange for you to choose your colours. Don't forget we offer to fit the blinds free of charge – Velux do not offer this service!